Nightly internet shutoff times affecting only school-issued, student devices. Please refer to the FAQ document for additional information.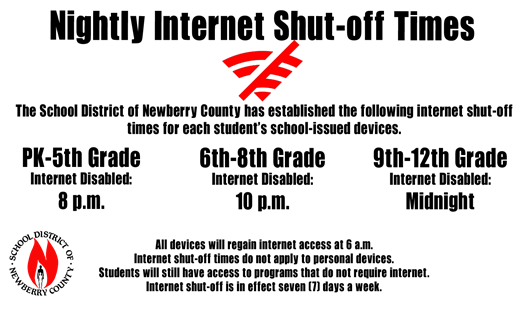 The School District of Newberry County is committed to ensuring the safety of its students, staff, and spectators at athletic events.

Check out this awesome community event to get everyone ready to go back to school!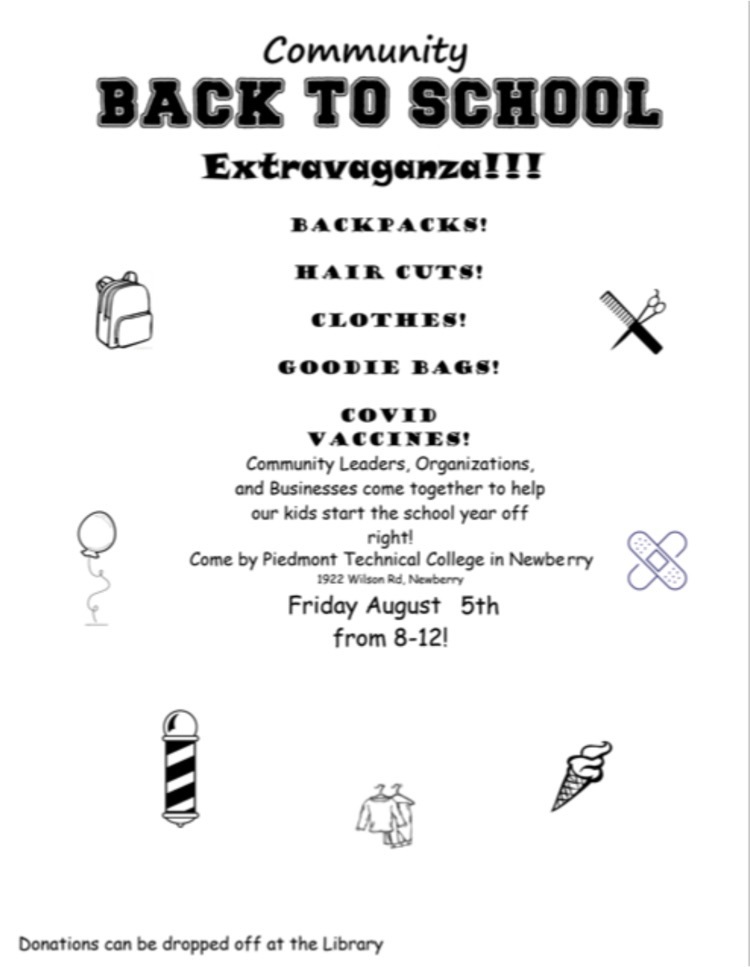 Save the Date! Open House will be held on Thursday, August 11 from 6pm-7pm. We are excited to welcome all our returning and new gators! Come meet your teacher and visit your classroom!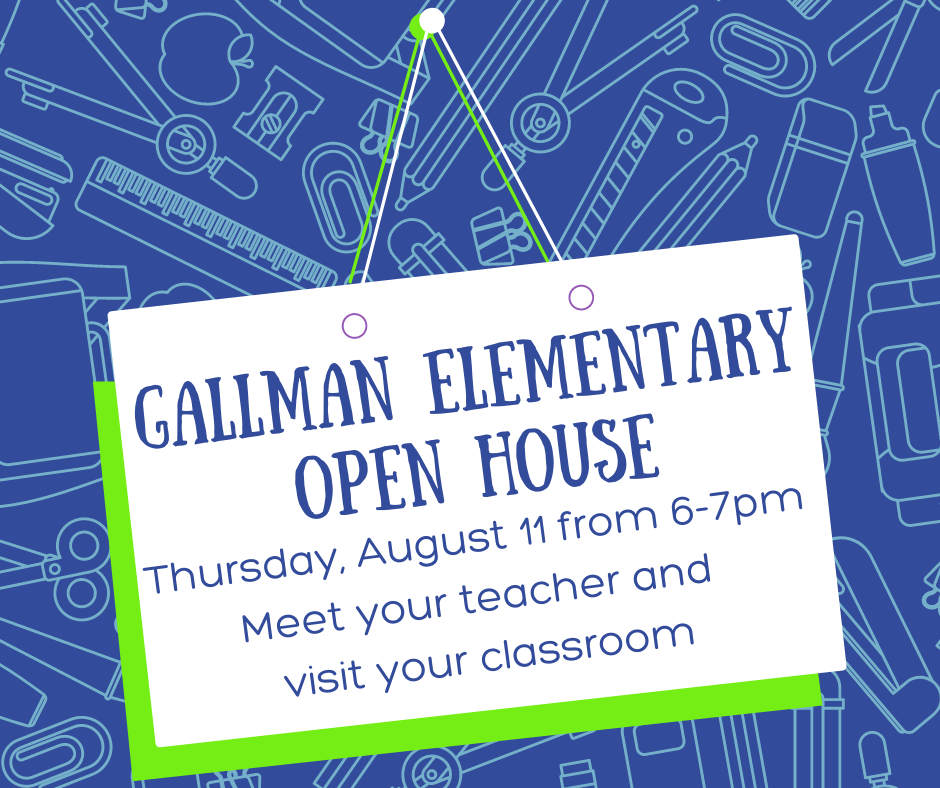 🐊Back to School Reminders🐊 Registration is open and can be found online at
www.gallmangators.org
. Parents of returning students should receive an email containing your student's SNAP code to use for registration today. Parents can complete registration, upload the 3 proofs of residence, and pay school fees online! If all of these are complete, there is no need for you to come to the in person registration days (August 2nd from 1-6 and August 3rd from 8-1) GES has purchased school supplies for all students. Parents are responsible for providing a backpack and water bottle. Open House will be Thursday, August 11 from 6-7pm.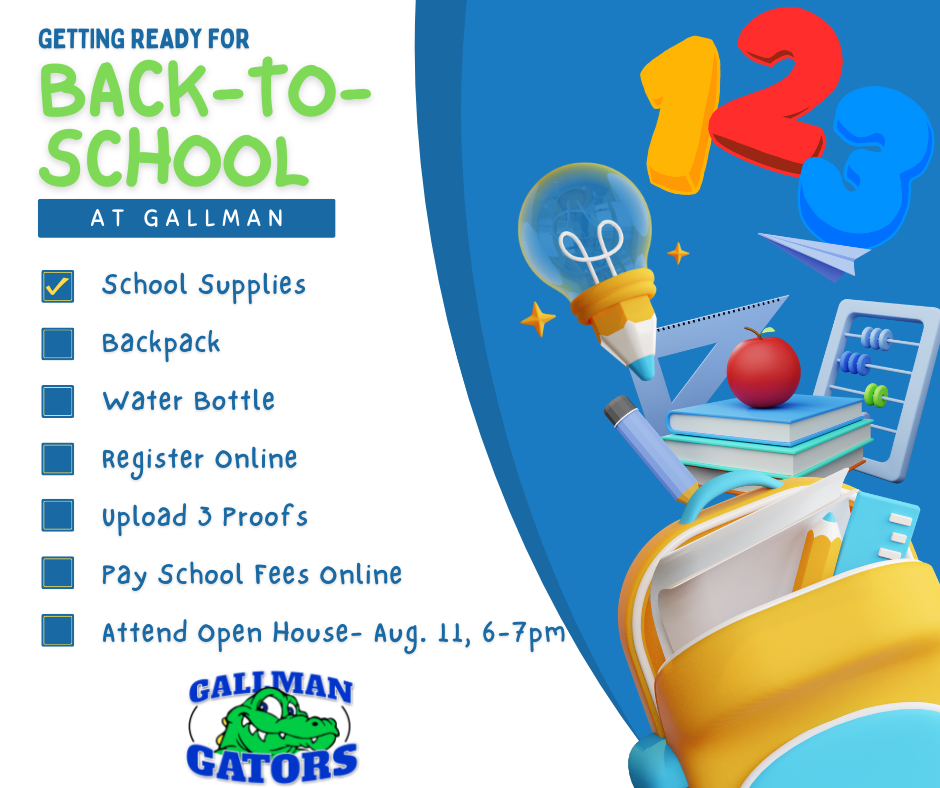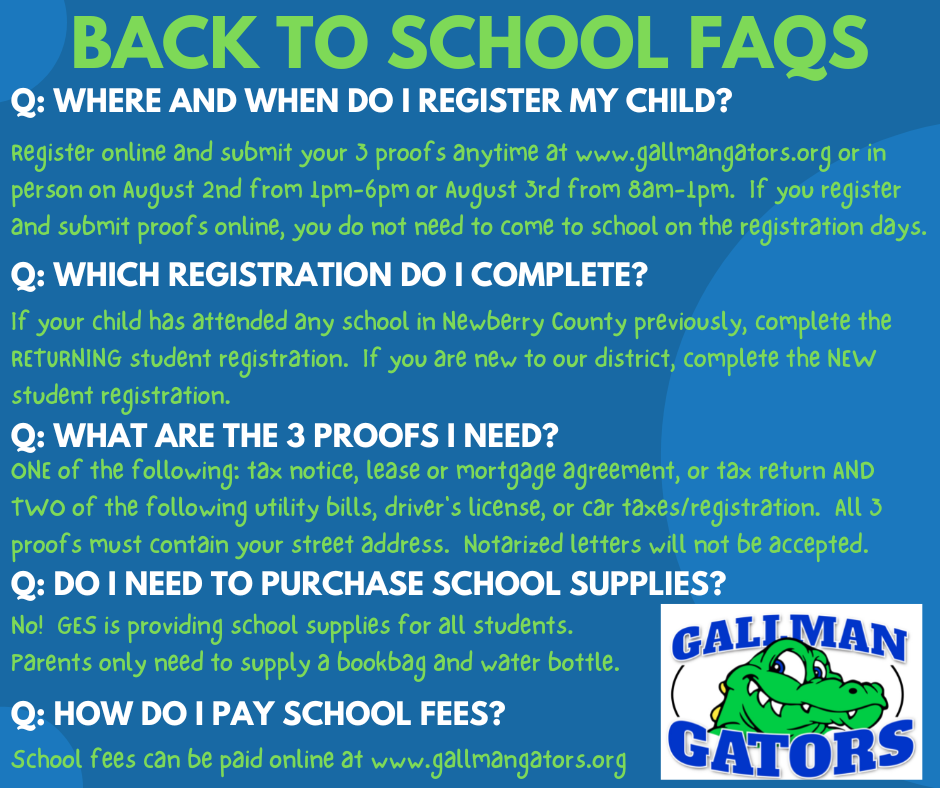 Sunday Phone Call/Text/Email Correction Monday--No school (Memorial Day) Tuesday-Students dismissed at 11 -Field Day (PK-2) Wednesday-Students dismissed at 11 -Field Day (3-5) -Last day for students -Report Cards go home

🎉Congratulations🎉 We are so proud to announce that our Teacher of the Year is our Media Specialist, Mrs. Laney Cobb! Mrs. Cobb is one of the hardest workers at GES! She loves books and enjoys fostering a love of books and reading in our students. Mrs. Cobb also manages much of our technology- handling everything from the smallest glitch to the biggest technology issues. She does it all with a smile! Thank you, Mrs. Cobb, for all you do for our Gator Family! Congratulations! We would also like to congratulate Ms. Johnette Gary, our custodian! Ms. Johnette was selected by our staff as the Support Staff Person of the Year! Mrs. Johnette is never still! She's always doing something to make our school cleaner and better. She has the best personality and loves on our staff and students. Congratulations on a much deserved recognition, Ms. Johnette!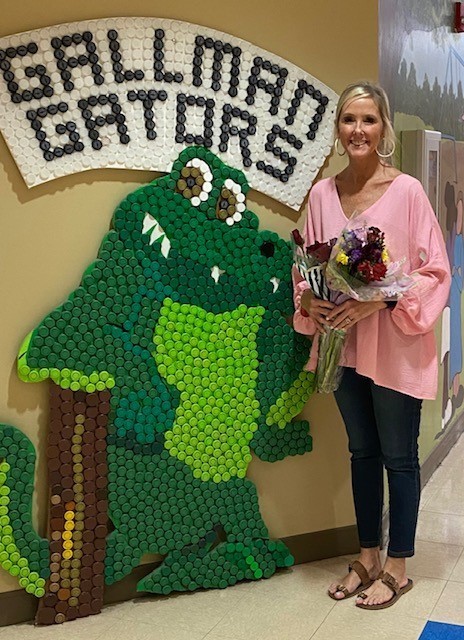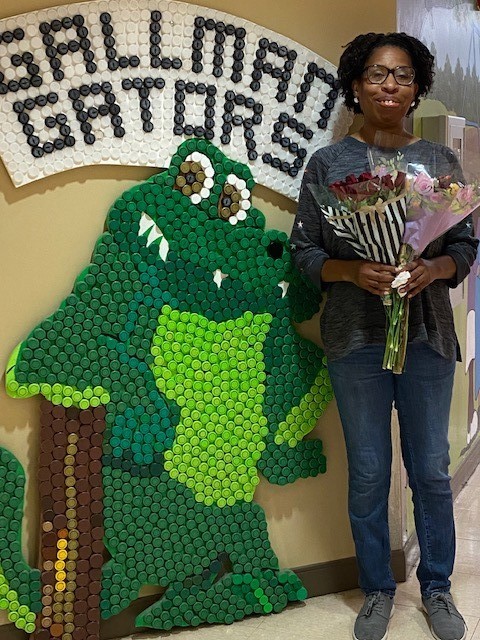 🎨District Art Show🎨 This evening, April 28, from 5:30-7:00pm, the School District of Newberry County will be honoring student artists with the District Art Show. Please come support the Gators listed below as their artwork is displayed at the Newberry Arts Center. Kindergarten Kennedy Bookman Charleigh Armstrong 1st Grade Luis Castro Pablo Peyton Holmes 2nd Grade D'Carion Johnson Jamarley Thompson 3rd Grade Rose Mendez Madison Harris 4th Grade Brielle Mingo Gerly Perez Cobon Cali Derrick 5th Grade Paola Reyes Leyva Emyli Lugo Moore Briana Lugo Moore Xavier Bowers

🎓Attention 2022 NHS Seniors🎓 Your elementary schools want to celebrate you and all you have accomplished with our annual Senior Walk! Please join us in the GES Swamp on Thursday, May 26 so our staff and students can celebrate you! We ask that you arrive at 1:20 and the walk will begin at 1:30.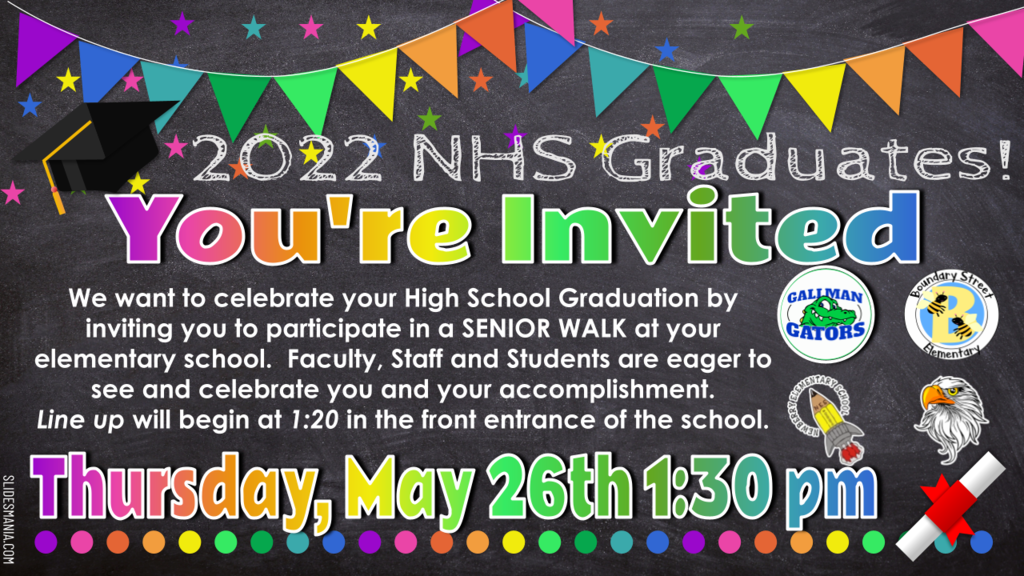 📷Say Cheese!📷 Tomorrow (Friday, April 22) is Spring Picture Day in the Swamp! Class pictures will be taken for EVERYONE! To order a class picture online ($10) go to
www.strawbridge.net
and enter code FM385414 Only students who have ordered inividual pictures (online or by sending in money) will take individual pictures. To order individual pictures online, go to
www.strawbridge.net
and use code FM285413

‼️Important Update‼️ ⛈School will dismiss tomorrow at 11:00am due to the threat of severe weather. ⛈The Field Trip to Newberry Opera House will continue as scheduled. Students will be back before dismissal. ⛈A bag lunch will be sent home with students. ⛈No Be GREAT or GES Afterschool program tomorrow. Read the full announcment from the School District: Due to the threat of severe weather forecast for tomorrow, April 5, all schools will operate on the half day schedule. Elementary students will dismiss at 11:00 am. Middle and high school students will dismiss at 11:30 am. Students will be provided lunch before dismissal. All high school WorkKeys testing will be re-scheduled for April 7. All after school and athletic events are canceled for tomorrow. Classes will have assignments posted in Schoology for eLearning in the afternoon.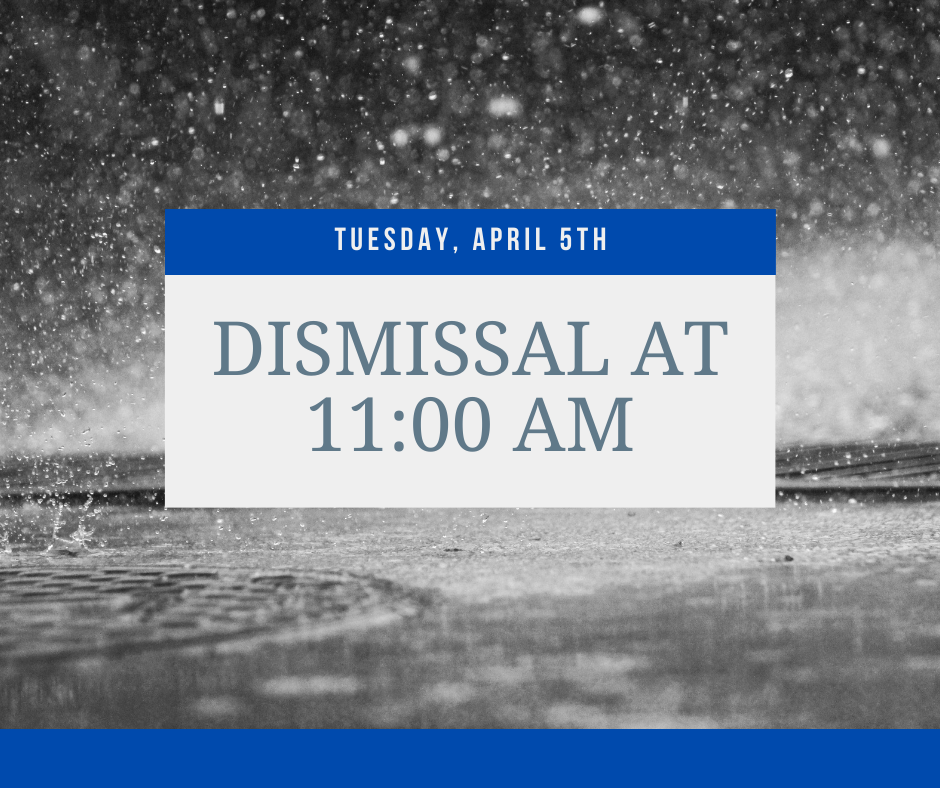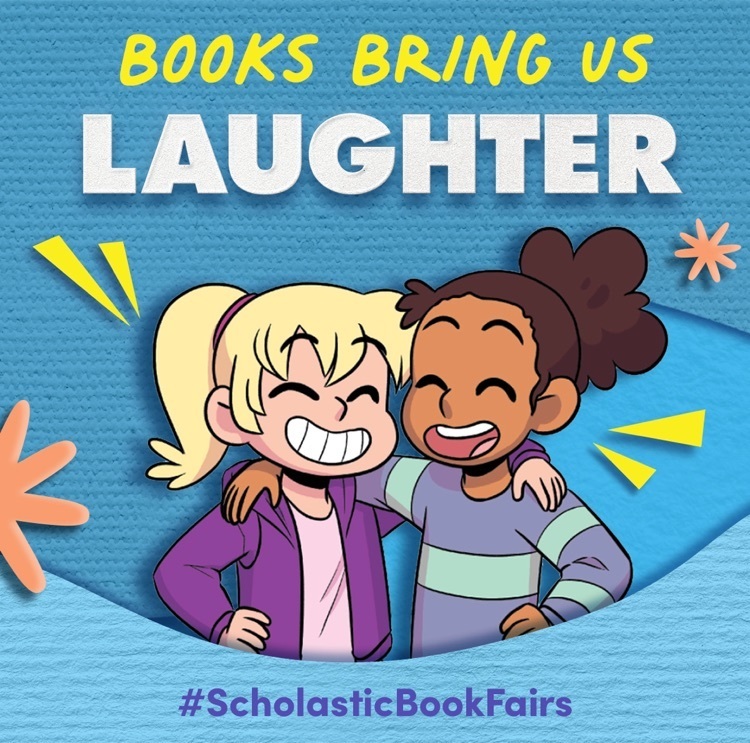 📚Save the Date for our Spring Scholastic Book Fair Next Week- March 28-April 1 For each item purchased, student's names will be entered in a daily drawing (by grade level) to win a prize from the Book Fair! Our goal is to sell 1,100 items!

Just a reminder that there will be No School on Monday, March 14th. All schools and offices will be closed. Enjoy the long weekend!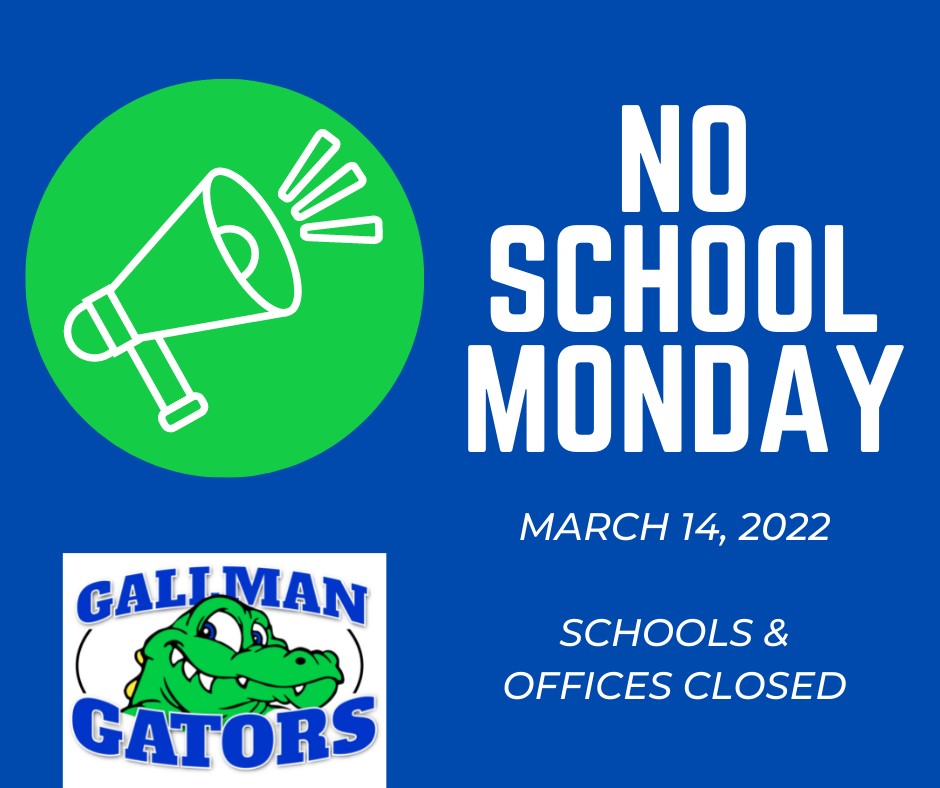 Gator 1 is running a few minutes behind because they have a substitute bus driver this afternoon.

📢Attention Families with Young Children📢 Please SHARE! Pre-K and Kindergarten Registration for the 2022-2023 school year will be open from February 28-March 11. Parents can register online at
https://secure.infosnap.com/family/gosnap.aspx
... for English or
https://secure.infosnap.com/family/gosnap.aspx
... for Spanish. Full posters can be viewed at
https://5il.co/14ss6
for English or
https://5il.co/14ss7
for Spanish. Register your child if: 🎒Your child will be turning 4 or 5 years old by September 1, 2022 and will be entering school for the first time. 🎒Your child will be turning 3 years old by September 1, 2022 and your are interested in our Montessori Program. For more information, call the school at 321-2655.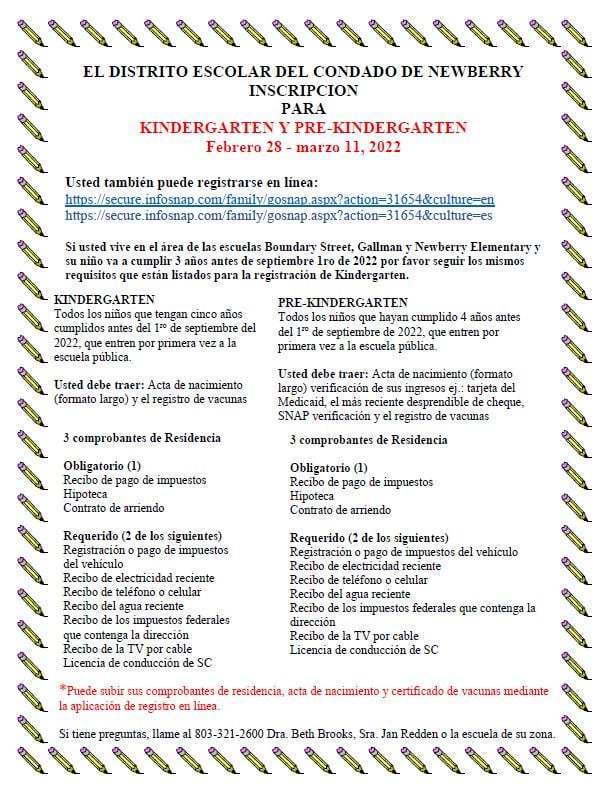 Next week is Read Across America Week and we have lots of fun dress-up days planned to help us celebrate reading! 🧢Monday is Hats on for Reading- Wear your favorite hat to school. 👩‍🍳Tuesday we show that Readers are Great Leaders and dress up for your dream job. 🇺🇸 On Wednesday we'll Read Across America and wear our red, white, and blue! 🌈On Thursday we'll wear a GES shirt or our favorite colors because Gators are Readers. 💤 On Friday we will remember that Reading is Relaxing by coming to school in our pajamas!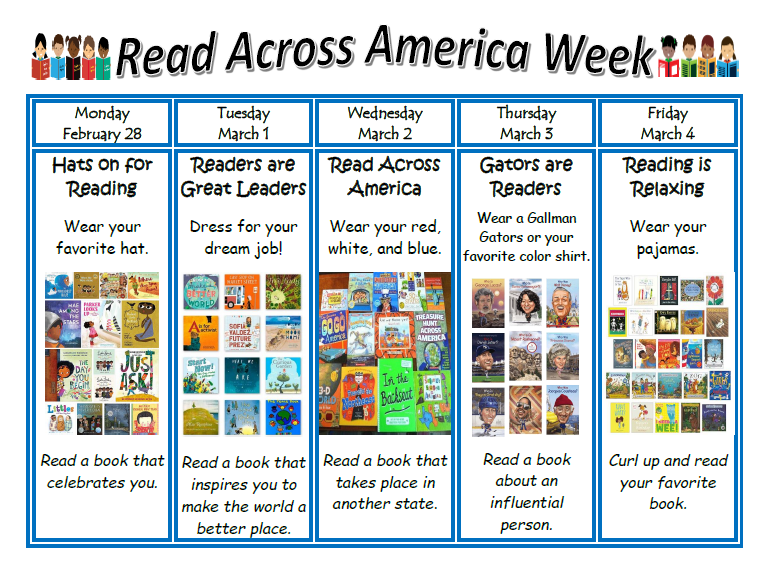 We hope all our students have a great LONG weekend! Remember, no school for students on Friday (2/18) or Monday (2/21). We'll be celebrating the Ultimate Twos-day when we return! Join us by wearing tutus, ties, tennis shoes, tiaras, or twinning with someone!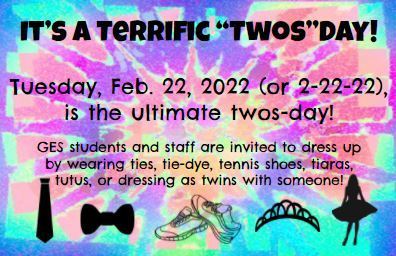 Check out the information below! Registration for Baseball/Softball and an Instructional Soccer Clinic is open until February 23rd.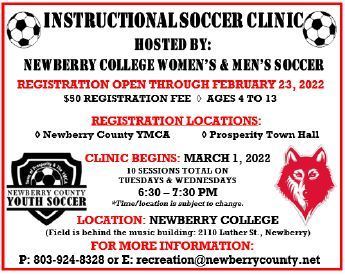 🐊Attention Parents and Families🐊 In case you missed tonight's phone call, here's all the information.   🐊Tomorrow is Valentine's Day. Students are allowed to bring cards and small prepackaged treats to school. Please send these to school with your child to reduce classroom interruptions. 🐊Students will walk a mile during Related Arts on Thursday as part of our observance of Heart Month. 🐊 In celebrating Black History Month, we are asking students and staff to wear African colors such as black, yellow, green, and (or) red or African attire on Thursday. 🐊Friday, there will be no school due to it being a professional day for teachers. 🐊There will be no school on next Monday due to observing Presidents' Day. 🐊Please be sure to provide a mask for your child if you choose for them to wear a mask. One mask a day will be provided to students who request one. Masks must be worn on the school bus. 🐊Please be sure to your child brings their device to school charged daily. 🐊Remember, if your child is absent, a written excuse or a doctor's excuse needs to be turned in to avoid receiving truancy letters. 🐊If your child has been out due to quarantine or isolation, they have 5 days to complete assignments to avoid being marked absent. 🐊Thank you for all that you do on a daily basis to support your children and our school. We cannot do this alone and you are appreciated as our Gallman Gator Family continue to learn and grow together. We hope you have a chomp, chomp, chomp Gatoriffic week!